See on Scoop.it – Living Leadership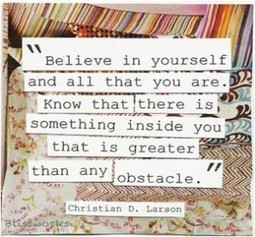 If you believe the best in yourself, you can (and give) your best performance to whatever it is you are doing. You will soon discover for yourself you are already a champion!
Visualize you are an ice skater in a competition. You are in first place going into the final round. If you perform well, the gold medal is yours. You are nervous, anxious and frightened.
Then, mere minutes before it's your turn to take the ice, your trainer rushes over to you with incredible news: "You've already won! The judges tabulated the scores, and none of the skaters can possibly catch up with you. You are too far ahead to lose.
Matthew Fritz's insight:
You have a choice–and you have a consequence. In the case of the voice you listen to in your head, you have a say. As such, why not be as nice to yourself as you have been taught to be to others? Choose to believe the best in yourself and perhaps you'll strive to meet with your own expectations. You can do it–I know you can!
See on generalleadership.com