See on Scoop.it – Living Leadership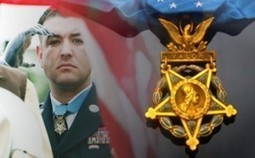 "A hero is a man who does what he can." Romain Rolland
Picture the scene: In a remote part of Afghanistan, near the mountainous border with Pakistan, helicopters carrying dozens of elite Army Rangers race over the rugged landscape. Their target on this high risk mission is an insurgent compound. It's broad daylight and the Rangers know the insurgents are heavily armed. But it's considered a risk worth taking as reliable intelligence sources indicate a top al Qaeda commander is in that compound.
Within a matter of minutes, the helicopters touch down and the Rangers immediately come under fire. One of the American soldiers who emerged from the helicopter that day was Staff Sergeant Leroy Petry.… Read the rest
Matthew Fritz's insight:
Choose your heroes and role models wisely, and let them lift you to heights you would not have risen to on your own.
See on generalleadership.com