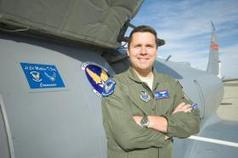 Innovating in Afghanistan certainly brings new meaning to the corporate term "change or die". Over the course of the project, Col. Fritz had to resolve vast technological limitations and overcome cultural and language barriers. Together, he and his team synchronized the activities of 16 nations, spread across six geographical locations within Afghanistan, to build air power capability and ensure security for the country's future.
The colonel, who in his spare time curates a blog at GeneralLeadership.com and tweets management insight from his(@fritzmt account to 95,000+ Twitter followers insists that lessons gained on the battlefield have many applications in the boardroom.
Source: time.com
Honored to have this opportunity with Time, and looking very forward to sharing my story at #BIF10!
See on Scoop.it – Living Leadership