See on Scoop.it – Living Leadership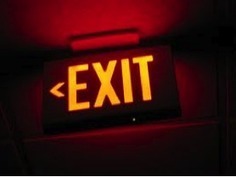 "In any moment of decision, the best thing you can do is the right thing, the next best thing is the wrong thing, and the worst thing you can do is nothing."– Theodore Roosevelt
Have you noticed how the most effective leaders exhibit a sense, not of glamour, but of responsibility? They are much less concerned with the opinions of others as they are with staying true to their personal sense of truth, inspiring others by their example, and encouraging others to join them in working toward a worthy common goal.
Such bold, selfless leadership implies a willingness to accept responsibility as much for failure as for success. It reflects an openness to taking risks and pushing forward into unchartered territory. And perhaps most importantly, it reveals to us what it looks like to refrain from allowing ambition to outpace virtue; arrogance to cloud out judgment; or convenience to override character.
Matthew Fritz's insight:
Those who have someplace to go, keep an eye on the door that can take them there. This is doubly true of the movers and shakers who understand that mediocrity is a cancer that spreads. Keeping an eye on the exit, versus managing the middle for the sake of "going along to get along" is what separates the doers from the sheep. It's a conscious choice NOT to accept mediocrity–what choice are you making today?
See on def2013.com