See on Scoop.it – Living Leadership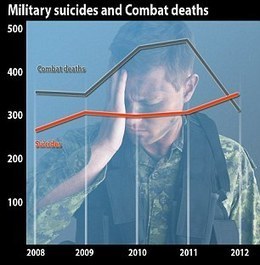 Shane and Sia Barbi were the Playboy 'it' girls for the generation of men now in their 40s and 50s, but now the identical twins are politically engaged and opening their mouths for something more than a meaningless photogenic pout.
Veterans 'can't always depend on Washington,' the pinup legends told MailOnline. Americans who are serious about defending those who have defended them, the Barbi Twins said, 'should donate to charities that help veterans, since they can't always count on government help.'
The Department of Veterans Affairs has come under fire for a backlog of disability claims that stretched 900,000 heroes long earlier this year, a line that can take a full year to navigate.
And thousands of veterans, shell-shocked and permanently scarred by combat, take their own lives each year when they tire of waiting or land medical treatment that stops short of helping.
Matthew Fritz's insight:
Find your light and let it shine! Sometimes the breadth and depth of your beam can pierce the shadows and uncover something amazing. In the case of Ken Wahl and his wife Shane Barbi (and her sister Sia Barbi) they have uncovered a ton of love, respect and ACTION for America's veterans in need. As I always say–lead where you are, wherever you are, and be ACTIVE. These three actively inspire every day with their actions. More than words, impacting lives takes time, energy and follow-through. How are you leading in your community today?
See on www.dailymail.co.uk