See on Scoop.it – Living Leadership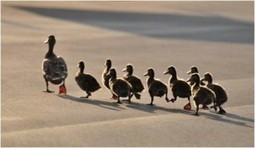 One of the long standing traditions associated with beginning a New Year is to resolve to do something different in the future. To some of us, that different may mean committing to exercise more, eat healthier, learn a new skill, eliminate a bad habit, and the list of possibilities goes on and on. This year, I've chosen a very different resolution than I have in the past. Instead of striving to run a marathon, pen a book proposal, or learn to paint, I've committed to doing something really, really challenging (for me, anyway).
Matthew Fritz's insight:
It takes no time at all to find a plethora of insight on Leadership. But followership–that's a horse of a different color. Why? Less sexy? Less interesting? Harder? The truth is that followership is foundational to leadership–and all of us could stand to enjoy a slice of humble-pie and see where our skills are best suited in a follower role.
See on generalleadership.com