See on Scoop.it – Living Leadership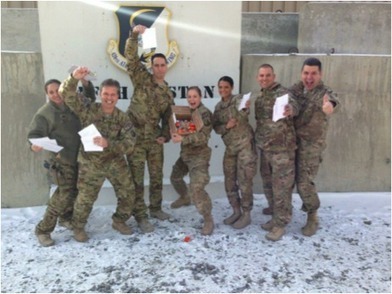 This is one of most honored posts I've ever ever hosted. Lt. Col. Matthew Fritz is Director, Commander's Action Group of NATO's Air Training Command in Afghanistan. Training a newly formed Afghan Air Force is the epitome in complex continual change management. Matt has become a very dear friend, thanks to Angela Maiers, and fellow blogger at Switch & Shift. I can't put into words my respect, admiration and thankfulness for Matt, his leadership, elegance, eloquence, professionalism and humility. I literally wouldn't be alive if it wasn't for men and women like Matt who fight for, preserve and train others to protect our precious freedom. Please read every word – and hold Matt, his work, our military and their ever sacrificing families in your prayers for safety and strength.
~~~~~~~~~~~~~~~~~~~~~~~~~~~~~~~~~~~~~~~~~~~~~~~~~~
Thank You For Your Service!
by Matthew T. Fritz
Monday started like so many Mondays here in Kabul…wakeup, head through Kabul ice/snow to the Dining Facility to grab breakfast to go, and then trudge over to the office to see what staffing challenges waited in the new day. The routine pleasantries occurred along the way, "Good morning, sir!" and "Nice weather, eh?" The morning prayers of the local population could be heard echoing through the loudspeakers outside the large 25-foot concrete T-walls topped with barbed wire that surround our compound, a Forward Operating Base within an Afghan Air Force base. My feet crunched through the snow propelling my frozen fingers to key-in the cipher code, which opened the cold metal front door of the headquarters building.
Matthew Fritz's insight:
Honored to share this post with my good friend, Deb, and her amazing audience! Thanks, @dscofield for letting me be a part of your team!
See on mills-scofield.com